Neck-body Joins
Some problems like a very high action, can only be resolved by a complete neck reset.
The task of re-setting a neck is quite difficult, and should not be undertaken lightly. It requires a lot of skill and care, both in the extraction, and more importantly, in setting up correctly before it can be re-glued. Before beginning the process, it will be useful to look at the two main types; a wedged join and an integral-heel neck.
Wedged Joins
This type of join is more usually found in German and more modern mandolins. Essentially a block is built into the body, with a wedge shape cut into it. The neck correspondingly has a wedge at its base which fits into this cavity. When it fits less snugly, small inserts will often be found down each side of the wedge to jam it in securely. The top may be cut round this wedge, so that the neck can be extracted without removing the top... but this is not always the case. German bowlback mandolins also often have this type of neck join, though again, not always.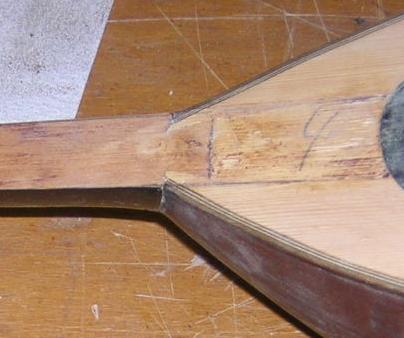 Integral-heel Joins
This is the type of join normally found in old bowlback mandolins, where the neck and heel wood is built into the form, around which the bowl is then built. After the bowl is built the neck and head are shaped. Because the bowl was built onto the heel itself, this makes altering its orientation to the neck very difficult. Fortunately, for reasons of economy of wood, the heel is usually not a single piece but two, and this fact makes it more feasible to split the heel, removing the neck section, and leaving the other as a stable base for re-gluing. Sadly it is almost always necessary to remove the top before working on Italian neck joins, because the top will normally cover the heel entirely.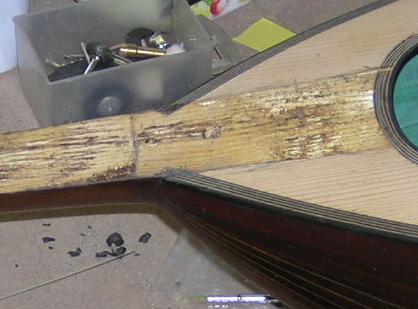 Here a German wedge-join can be seen before and after extraction. It has not been necessary to remove the top.
Here an Italian neck join is covered by the top. When the top is removed, the neck and heel can be seen to be one piece, almost like a horse's hoof in shape, though the heel is often made up of two pieces of wood.